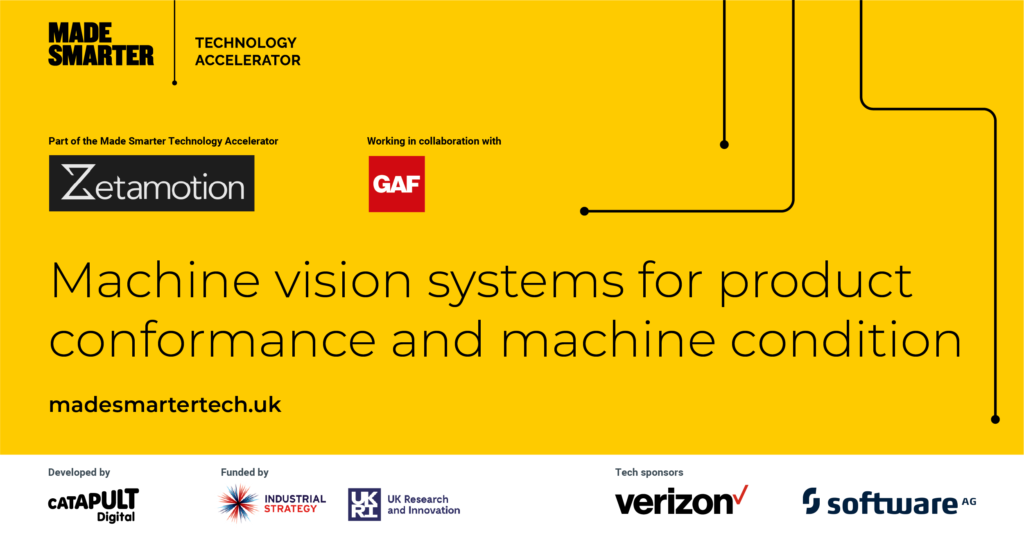 zetamotion and Dakota Systems build Product Conformance system for GAF
zetamotion, in collaboration with Dakota Systems is creating a unique product conformance solution for GAF, the largest roofing manufacturer in North America. Using cutting-edge AI and modern sensor technologies this novel product will be able to replace tasks and techniques typically carried out by human inspectors, and will help create higher throughput and consistency, and reduce material wastage and production downtime.
In the challenge GAF put forward in the context of the Made Smarter Technology Accelerator programme, GAF was looking to employ machine vision and sensor technology to assess product conformance to specification; characterising surface anomalies and identifying the process conditions when they occur; and evaluating whether critical machine components are appropriate to continue using.
To address this challenge, we are proud to be partnering with Dakota Systems, a pioneer and expert in digital transformation and smart manufacturing. Since 1999, Dakota Systems has been a trusted partner for global, engineering-driven brands such as Nokia, Motorola, United Airlines, Shure, Siemens, and John Deere.
Not least exemplified by this project, it has become clear that:
Labor cost for manual QC in manufacturing is skyrocketing in industrialized countries.
Physical access to manufacturing processes has be limited/block during the Covid-19 pandemic
Computer Vision and AI has been commoditized shifting value to customized solutions.
Global manufacturers are looking to customized solutions that will give them a competitive edge rather than purchasing the same computer vision QC solution available to their competitors.
The current competitive landscape for computer vision quality assurance is a crowded space filled with many companies overstating their products capabilities while offering trivial solutions.
For these reasons, we are keen to apply and introduce our groundbreaking technology to the industry 4.0, where we can help provide fast, accurate, affordable and scalable solutions for product conformance testing, machine inspection, enterprise XR and beyond.
We are very grateful towards the Made Smarter Technology Accelerator, for bringing us together with GAF, which is proving to be a perfect partner with an ideal challenge to showcase our capabilities. And, together with Dakota Systems, we will be able to show how an advanced sensor system like ours can be integrated with a wider smart factory infrastructure and data management system.
Delivered by Digital Catapult, funded by UKRI through the Industrial Strategy Challenge Fund, as part of the national Made Smarter movement, the Made Smarter Technology Accelerator is a national programme, set to fast forward and shape the UK's technology adoption directly into industry.